Goldmine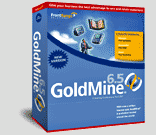 Shorten Sales Cycles and Drive Revenue
Out of the box, GoldMine® helps increase productivity through team-based collaboration, centralized customer information, and tools for streamlining sales and marketing processes. If needed, you can add even more to the power of GoldMine with modules for flexible web access, mobile contact management, and integration with Microsoft Outlook, Microsoft Exchange, and popular accounting packages!

GoldMine® equips professionals, SOHOs (Small Offices/Home Offices), small businesses and teams with customer/contact management, automated processes and workgroup tools.

GoldMine® Corporate Edition enables entire small to medium-sized enterprises or distributed enterprises to effectively manage every facet of business relationships.
Features Include:
Rich Contact Management

Time Management

Document and Campaign Management

Opportunity Management

Team-Based Collaboration

Reporting and Analysis

Forecasting

Remote Access

Full Integration with Microsoft Outlook and Exchange